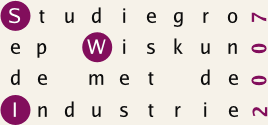 Study Group Mathematics with Industry 2007
Universiteit Utrecht, 29 January - 2 February 2007
---
Introduction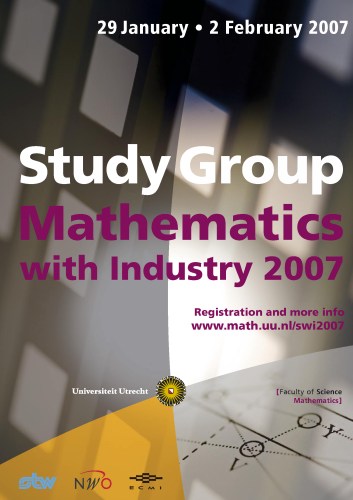 The 58th Study Group Mathematics With Industry (Studiegroep Wiskunde met de Industrie), SWI2007, was held from 29 January to 2 February 2007 at the Faculty of Science at Utrecht University. The purpose of this week is to use mathematics to tackle industrial problems. The next edition of the Study Group, SWI2008 will be held at Twente University.
Proceedings
The proceedings of SWI2007 are now available in electronic form. Moreover, a popular version of the proceedings (in Dutch) was written by Bennie Mols. Both versions can be downloaded and are available in print. Please contact us if you would like a copy.
Reports
Our reporter Erik Fledderus has written reports on Monday, Wednesday and Friday.
How it works
At the beginning of the week, a representative from each invited company (six in total) presents their industrial problem to the participating mathematicians (approximately 60). The academic participants then allocate themselves to the groups who work full-time on each problem over the next three days. By the last day, each group of mathematicians must ensure that their ideas are developed enough to collate them into a final presentation to the other study-group participants. The collaboration does not necessarily end at this point as the mathematicians must also write an article for the proceedings, which can act as a formal record of the work done for the invited company. This provides the possibility of encouraging further research, leading to new links between industry and academia.
For links to previous study groups and more general information, please visit the site of the Dutch Mathematical Society, or the International Study Groups Website.
Information for companies
Perhaps, an industrial problem from your company could be solved in the study group? We have filled all six problems for this year's edition, but perhaps you have a problem that could be solved next year. If so, please contact us.
Sponsors